Certifications, memberships and cooperations
Nilorn is committed to being your responsible supplier, providing goods and services with sustainability at its core. In addition to our own standards, Nilorn and/or our partners also participate in the certifications and memberships listed below.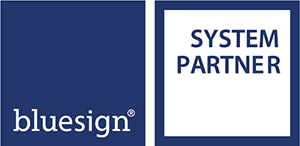 bluesign®
The bluesign® system uses a strict system of audit and chemical management to eliminate harmful substances  throughout the supply chain. bluesign® provides brands and consumers with re-assurance that their product meets stringent consumer safety requirement and is produced in a sustainable manner. The bluesign® labels cover: responsible use of resources, production with a minimum impact on people and the environment and the highest level of consumer safety. Nilorn Portugal has been a bluesign® system partner since 2012 and Nilorn East Asia became a bluesign® system partner in 2017.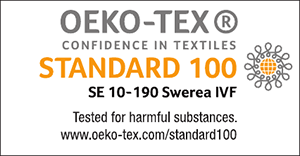 OEKO-TEX® STANDARD 100
Introduced in 1992 OEKO-TEX® 100 Standard is a worldwide consistent independent testing and certification system for raw, intermediate and end textile products at all stages of processing. The standard is a comprehensive and strict catalogue of measures taking in to account legal regulations, REACH, CPSIA and numerous harmful chemicals not yet regulated. Nilorn holds an OEKO-TEX® certificate for textile production and accessories, produced both in our factories and suppliers' factories. We hold certifications for product class 1, the highest level.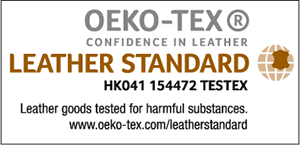 OEKO-TEX® LEATHER STANDARD
The LEATHER STANDARD is a worldwide consistent, independent testing and certification system for leather and leather articles at all levels of production, as well as for leather accessory materials used. The aims of the product certification in accordance with LEATHER STANDARD are to provide the end consumer with a reliable, 3rd party, independent product label for non-hazardous products that are tested according to the LEATHER STANDARD criteria catalogue and also to support the companies along the supply chain based on a scientific criteria catalogue and neutral laboratory tests.

GOTS
GOTS is the stringent voluntary global standard for the entire post-harvest processing (including spinning, knitting, weaving, dyeing and manufacturing) of apparel and home textiles made with certified organic fibre and covers both environmental and social criteria. Key provisions include a ban on the use of genetically modified organisms (GMOs) and highly hazardous chemicals, and child labour, while requiring strong social compliance management systems and strict waste water treatment practices. We are able to deliver GOTS-certified printed cotton ribbons and labels.

RECYCLED CLAIM STANDARD / GLOBAL RECYCLE STANDARD
Textile Exchange (TE) is an international, member-supported non-profit organisation with the mission to accelerate sustainable practices in the textile industry. One example is the TE Recycled Claim Standard (RCS), a standard for tracking and verifying the content of recycled materials in a final product. The TE Recycled Claim Standard verifies the presence and amount of recycled material in a final product through input and chain-of-custody verification from a third party. Another example is the Global Recycle Standard (GRS). The objectives of the GRS are to define requirements to ensure accurate content claims and good working conditions, and that harmful environmental and chemical impacts are minimised.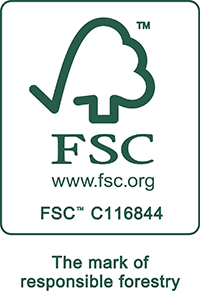 FSC ™
The Forest Stewardship Council™ (FSC™) is an international non-profit organisation dedicated to promoting responsible forestry. FSC certifies forests all over the world to ensure that they meet the highest environmental and social standards. The FSC system also provides a way of tracking forest products through independently verified Chain of Custody (CoC) certification, which verifies that a product contains wood from a certified forest and/or recycled material. Every organisation that forms one of the links in the supply chain must hold their own CoC certificate for the product or publication to claim FSC-certification. A properly labelled product shall carry the FSC™ logo, the label text and the FSC™ trademark licence code. Nilorn offers FSC™ certified paper products.

Sedex
Sedex, the Supplier Ethical Data Exchange, is a not-for-profit membership organisation dedicated to driving improvements in responsible and ethical business practices in global supply chains. Sedex is also an online database, used by more than 60,000 members in over 180 countries, which allows companies to store and view data on ethical and responsible business practices. Nilorn is a member of Sedex and many of our suppliers participate in the SMETA Audit Program (Sedex Members Ethical Trade Audit).
SMETA methodology uses the ETI code and local law as their measurement tool. It includes four modules: health and safety, labour standards, environment (optional) and business ethics (optional). At Nilorn, we are audited against SMETA in our own factories in Bangladesh, Hong Kong, and Turkey.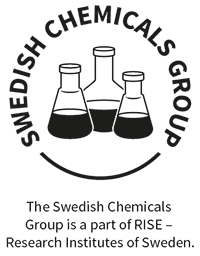 RISE Chemicals Group
Nilorn is a member of the RISE Chemicals Group. The chemicals group work to distribute the latest information on chemical and environmental issues to its member companies. The network is run by RISE Research Institutes of Sweden and collaborates with university and government experts. We participate in the group's network meetings and use the Chemical Guide in our work to comply with legislation and recommendations.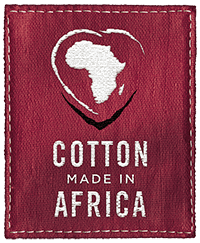 Cotton Made In Africa
Cotton made in Africa, an initiative of the Aid by Trade Foundation, is an internationally recognised standard for sustainable cotton from Africa. Since 2005, CmiA has been committed to protecting the environment while improving working and living conditions for smallholder farmers and ginnery workers. Nilorn is a partner of CmiA and we provide all standard CmiA hangtags and woven labels. 

MinShed
MinShed is a three-year (2017-2020) research project. ​​​​The goal of the project is to create knowledge and guidelines that will help the textile industry to design and create clothes made of synthetic fabrics that do not emit micro plastics. The project also investigates how washing machines are designed and whether they can be equipped with a filter in order to reduce emissions of micro plastics.